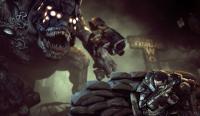 Nach gamespot.com gibt es nun auch bei ComputerandVideogames.com (CVG) und TrustedReviews.com ein Preview zur kommenden PC-Version von Epic's "Xbox 360 – Shooter" Gears of War.
CVG:
It's the worst kept secret in history; Gears of War is coming to PC, it's looking slightly prettier and it's got Microsoft's controversial Games for Windows Live logo slapped on it. What's new to us though is how Epic's gone about serving its "best damn console game we could make" to the mouse and keyboard world, which hasn't exactly proved to be the best environment for a third-person action game.
TrustedReviews.com:
I wouldn't like to guess, but regardless Gears of War PC is looking to be an excellent conversion of an already excellent game, which is probably all you need to know. Moreover, with the PC version providing new chapters, more story, another major boss battle in the form of the Brumak, more multiplayer options and an editor, there are still plenty of reasons to consider it, even if you've played it on the Xbox 360.
related Links: